Published on
Play Superhero Pinball with APCON at the Supercomputing Denver Tradeshow (November 12-17, 2023)
Updated on
As an exhibitor at the Supercomputing Denver tradeshow this November, APCON joins America's leading international conference for high-performance computing, networking, digital storage, and data analysis. APCON representatives will showcase 400G network throughput solutions designed to help customer networks keep pace with the AI evolution.
Established in 1988, the Supercomputing conference continues to grow steadily in size and impact each year. Join APCON and approximately 13,000 other IT enthusiasts for the 2023 show.
What You Need to Know: Supercomputing Denver Tradeshow
Show Dates: November 12-17, 2023
Exhibit Dates: November 14-16, 2023
Location: Colorado Convention Center
700 14th Street
Denver, CO 80202
Exhibits Schedule:
Monday, 11/13: Exhibitors Opening Gala 7 p.m. (Exhibitor Pass required for entry)
Tuesday, 11/14: Exhibits open 10 a.m. - 5 p.m.
Wednesday, 11/15: Exhibits open 10 a.m. - 5 p.m.
Thursday, 11/16: Exhibits open 10 a.m. - 3 p.m.
Spider-Man Joins APCON (in a way) at Booth #2194
Experience another level of fun at the SC Denver exhibit hall by testing your wall-crawling skills on a full-sized pinball machine – starring none other than our favorite superhero techno-nerd, Spider-Man/Peter Parker! Even if your pinball score tanks, you still get a chance to win one of ten prizes from the Supercomputing tradeshow.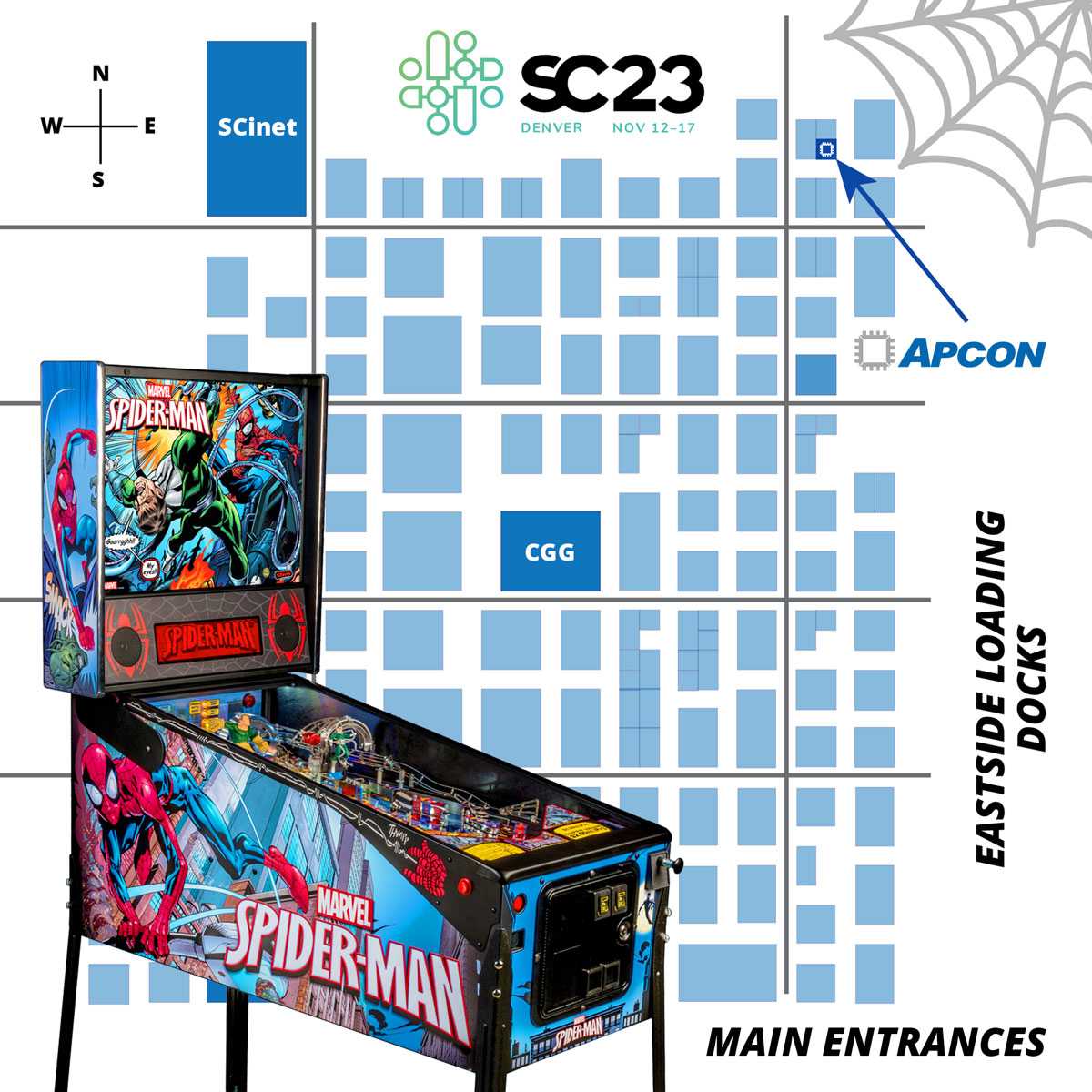 APCON's resident superheroes (a Solutions Engineer and product expert) will be on hand to discuss the current versus future needs of your IT architecture.
"Passport to Prizes"
At the registration table, you will receive your event badge plus a "Passport to Prizes" game card for a chance to win a popular electronic prize like a Dell Laptop, Nintendo Switch™, Apple Watch, Meta Quest 2 VR Headset, or other high-tech gear. Once you've gathered the required stamps, turn in your Passport to be entered into the drawings.
Register Today
Standard Registration ended on October 13, but Late Registration will remain open for prospective attendees via this advance registration page or on-site registration through Friday, November 17.
You can also submit an apcon.com request form for FREE attendee passes (a $200 value) by 7:00 p.m. MST on Monday, November 13. APCON's Marketing Team will follow up with you to confirm pass availability and how to pick them up on Day 1 of the exhibition November 14.
Questions regarding APCON's presence at SC Denver can be directed to Megan Jasin, Marketing Communications Generalist, at pr@apcon.com.