Article type

Press Release

Published on
APCON, Inc. to Showcase Solutions for the AI Evolution at Supercomputing Denver Tradeshow (November 12-17, 2023)
Updated on
Location

Wilsonville, Oregon
Test your Spider-Man pinball skills and chat all things AI, Big Data, Scalability, and Sustainability at APCON Booth #2194
APCON, Inc. (APCON), a leading global provider of advanced network visibility and monitoring solutions, is excited to be exhibiting at the annual Supercomputing (SC) tradeshow November 12-17, 2023. The SC tradeshow is the United States' leading International Conference for high-performance computing, networking, storage, and analysis.
This year's panels will focus on emerging trends in AI, Big Data, HPC Scalability, and Sustainability, with Dr. Hakeem Oluseyi – one of the world's most accomplished star-gazers and educators – booked as Keynote Speaker. The Keynote presentation is open to all registered exhibitors and attendees.
Established in 1988, the conference continues to grow steadily in size and impact each year. Over 13,000 attendees and approximately 5,000 Technical Program participants are expected for the 2023 show, which will be held at Denver's Colorado Convention Center.
How to Register
While Standard Registration closed on October 13, Late Registration will remain open for prospective attendees via advance registration or on-site registration through Friday, November 17 (last day of the show).
Individuals or a team representative can also submit an apcon.com request form for FREE attendee passes (a $200 value) by 7:00 p.m. MST on Monday, November 13. APCON's Marketing Team will follow up with you directly to confirm how many free passes you have been awarded, and how to pick them up on November 14.
Enter to Win! Get your "Passport" Stamped at APCON Booth #2194
When visitors pick up their event badges, they will also receive a "Passport to Prizes" game card. To compete for some of the most popular electronics on the market, attendees will need to visit all participating exhibitor booths (including APCON) to receive a stamp on their game cards.
Once attendees gather all required stamps on their "Passport to Prizes" game card, they can submit it at the Passport to Prizes booth (#2199, across the aisle from APCON) for a chance to win 1 of the 10 Grand Prizes listed below.

Get Nerdy (like Peter Parker) with APCON
Experience another level of fun at the SC Denver exhibit hall (no radioactive spider bites required). APCON's booth #2194 will feature a full-sized pinball machine – starring none other than our favorite superhero techno-nerd, Spider-Man/Peter Parker!
One of APCON's resident superheroes (Solution Engineers) and two other APCON team members will be available for hot topic discussions on-site, such as:
Redefining Scalability for Multiple Network Architecture
Learn about APCON's IntellaView platform, which offers 1G to 400G solutions in a 1RU chassis up to a 9RU HPC powerhouse for on-prem, cloud, or hybrid environments.
Principles of High-Performance Deep Learning (DL) and Machine Learning (ML) at Scale As subsets of AI, successful implementation of DL and ML relies on speed and data optimization. Ask APCON's experts how to accelerate your network to meet the demands of AI applications and the increase in related data management tasks.
Fault-Tolerance for Big Data Applications: Theory and Practice APCON experts can provide quotes on solutions to help your mid-size or enterprise organization with high-speed deduplication, packet slicing, and other processing services to streamline the flows of Big Data to your data security tools.
Enabling Predictive Science with Optimization and Uncertainty Quantification in HPC With APCON's 30 years of experience in data centers as of 2023, attendees can be confident when discussing predictive analysis and delivering exact packet payloads to your cybersecurity tools via APCONtaps, SPANs, and switches.
Cyber Security in High-Performance Computing Environments APCON supports customers globally and has had to get creative when helping network infrastructures scale for the future while meeting industry-specific security requirements. Ask our experts what today's surges of AI-driven software and 5G technologies will mean for your organization's ever-growing network, and how APCON solutions can maximize data packet delivery and security while making tool oversubscription obsolete.
APCON will also be slinging webs of network-revealing products recently launched via its IntellaView Platform, including:
400G EdgeSwitch: A high-density 1RU switch system with 32 ports that supports up to 400G Ethernet connections and various network configurations and use cases. This is a cost-efficient, scalable, and small-footprint data solution that organizations of all sizes can deploy to stay ahead of ever-growing, high-performance bandwidth needs (such as AI and 5G applications).
28-Port Blade: Supports 4 QSFP-DD ports of 40G/100G/200G/400G and 24 QSFP ports of 40G/100G, providing flexible performance options and enhanced versatility for enterprises. The blade and its internal settings can both be managed from APCON's IntellaView Enterprise GUI.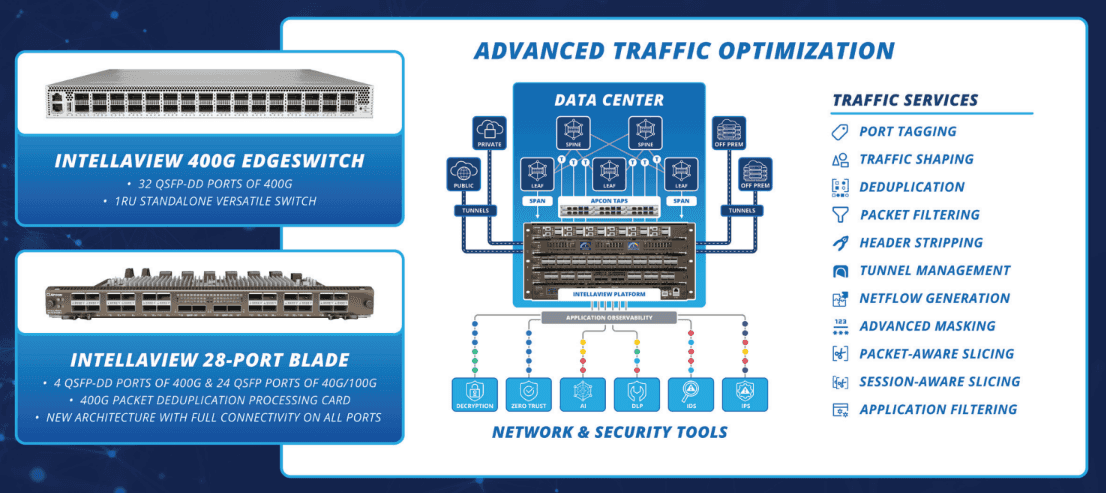 "Putting the customer first is one of APCON's top core values. We listened to our customers and created an all-inclusive pricing model, which we offer for all of our network traffic conditioning features at no additional cost," says APCON's Vice President of Sales, Stuart Lee.
"Advanced features like Deduplication, NetFlow Generation, Deep Packet Inspection, Packet Slicing, etc., can all be used without any sort of special licensing or subscriptions. We provide full transparency up front with no downstream costs or surprises, as well as traditional CAPEX models as opposed to complicated and costly subscription models," he continued.
For deeper IT project discussions and guidance on transitioning to APCON's Advanced or Enterprise licensing models, attendees and their teams can schedule a Zoom demo with APCON's Solutions Engineers.
APCON's Sales and Support teams are also available by phone, 24x7x365, at (800) 624-6808.
Press Contact for Media Briefings Megan Jasin, Marketing Communications Generalist, phone: (972) 372-0198, email: pr@apcon.com
About APCON, Inc. (APCON) Since 1993, APCON has consistently delivered technology designed with unparalleled innovation, stability, and scalability to mid-sized and Fortune 1000 customers in over 40 countries. Our products instill network and security professionals with the confidence that data is monitored, secured, and protected in both physical and virtual environments. APCON helps companies sustain maximum performance by empowering total network visibility. APCON currently has offices in Wilsonville, OR, and Plano, TX, with additional employees located throughout the United States. APCON is a registered trademark of APCON, Inc.